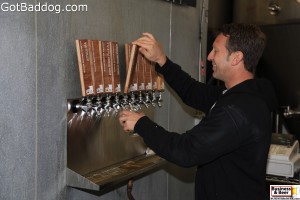 Thursday, February 28 marked the fifth time that Business & Beer has met at Strand Brewing Company in Torrance, and once again we had an outstanding turnout. I do not know what it is, but it seems every time we return to Strand, people that we have not seen in a while show up; must be the fresh beers. Thursday we had a nice mix of regulars and people that are starting to show up more frequently. Of course, our host Rich Marcello, co-owner of Strand Brewing Co, never hesitates to send friends of his over to meet our group when he knows they are small business owners; we really appreciate it.
Our next Business & Beer will be held Thursday, March 7 at the Alpine Inn at Alpine Village in Torrance, CA. The Alpine Inn is a German gastropub that has a nice selection of European beer on tap; but they also have a very nice cache of hard to find American craft beer on tap available. They also have a nice food menu consisting primarily of German dishes. At the last minute we decided to try out Meetup, however, we were not aware that there was some delay in getting approval to be in their system. There is a chance that Meetup will announce our meeting in time for a few new faces to show up. We hope to see you there.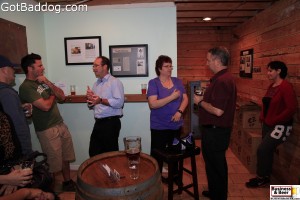 A few days ago I had someone ask what they had to do if they wanted to bring a couple friends next week; I want to be sure everyone is familiar with the process so there is no confusion. If you know someone that you feel would benefit from coming to one of our gatherings, just tell them to be there at 6:00-7:30 and look for the Business & Beer signs on the table. They should then introduce themselves and order a beer. That is it. We encourage you to tell your friends about us. You can tell them the schedule is on the front page of this website or suggest they get on our mailing list so they know whenever a new event is added to the schedule. They can also Like Us on Facebook so they always know what is going on. You can find all the photos from our gathering at Strand Brewing Company on GotBaddog.com.