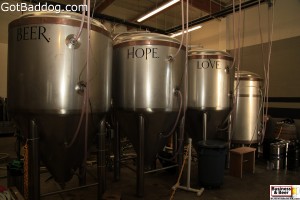 Last week, Business & Beer returned to Monkish Brewing Company in Torrance. Because we have added new locations to our rotation, combined with a bye-week, it had been three months since we had been there. We will have to try and ensure that doesn't happen again. There have been a lot of changes at the tasting room, most notably a new window installed that allows people in the front area to view the brewing area. They have also added a new tap system, with 12 taps that feed directly from their cooler. 12 taps means more varieties of beer available. Our gathering started while they were still finishing things up, so while we started with two offerings, within an hour there were nine brews available. We had a nice group as a few people that have not been around lately came out, and one of our new Meetup people is becoming a Business & Beer regular. To be honest, I am not sure that Meetup is showing any value after the initial month. They really need a way to do repeat mass mailings.
This Thursday, April 25, we will be returning to
Strand Brewing Company
in Torrance. It has only been two months since we were last at Strand Brewing, but they have had a lot of changes over there as well. Not only have they increased the number of brews available, they now offer several of them in bottles as well as growlers. The bottles are great for beers you want to store for a special occasion. We always have a large group when we go to Strand, in part because co-owner Rich Marcello is always talking us up and sending interested parties over to us. We appreciate it as this is how we grow. We should all thank Rich by coming out Thursday and doing some business over a Strand Brewing Company beer.
Business & Beer is a business networking group that meets every Thursday at a different microbrewery, brewpub or gastropub in the South Bay area. If you are a member of Meetup and know someone you think might enjoy and benefit from our group, please feel free to refer them to our Meetup page. Likewise, we have a Facebook page or you can sign up to our mailing list to be kept in the loop. All the photos from our Business & Beer at Monkish Brewing can be found at GotBaddog.com.