Business & Beer returned to El Segundo Brewing Company last Thursday for another business networking event. El Segundo Brewing Company (ESBC) is a microbrewery that specializes in ales, with a few amazing IPA's (Two 5 Left, White Dog and Blue House) and a couple nice stouts. They have recently started bottling, so their growth is showing.
El Segundo Brewing Company is at the northern most limits of the location we visit, so I was interested in seeing if using Meetup.com was going to do anything as far as raising out attendance levels; it did not. We still had a nice size group of about 10 show up, among them being a first timer and a few that are becoming regular attendees. I could see that there was a lot of networking going on and I am noticing that our group is not hesitant to talk to others that ask what is going on. For those that showed up, ESBC offered some discounts on pints and flights so in addition to business networking and good beer, we got the beer at a really good rate.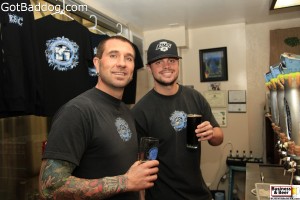 There will be no Business & Beer this week as we have a trade show to attend, however, we will resume with our gatherings on April 11 at Sophie's Place in Redondo Beach. We are planning something a little special, so if you need any incentive to finally come out and see what the fuss is about, that might be a good event to attend. You will find all the photos from our networking event at ESBC on GotBaddog.com.