review of last month's gathering
sounded upbeat, this one should be equally so.
We had initially scheduled the networking event to be held at King Harbor's new Waterfront Tasting Room but last minute delays with the California ABC put the opening date in question, so an executive decision was made to reschedule the gathering for the original tasting room. In retrospect, as much as it would have been pretty cool to introduce the Business & Beer group to the new location, I am not entirely sure we all would have fit if everyone that RSVP'd actually showed up. As it was, we had about 20 people show up which was our largest group in quite a while. It was a definite improvement over the showings earlier in the year when we might have three people join us.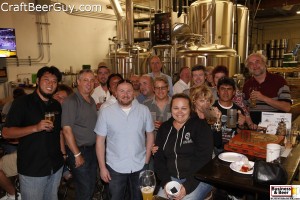 We had a couple special guests that joined us, Brewmaster Naga Reshi from Dry River Brewing joined us and he brought a friend from Miami Beach, FL making him the record holder for traveling the furthest to one of our gatherings. The previous record was somewhere in the San Fernando Valley so I suspect this record will hold for a while. As it happens, one of our regulars, Denise Dumars, had brought something to be given away in our drawing and he won it; Reshi won the drawing for a free beer at an upcoming Business & Beer event.
Our July gathering of Business & Beer will be held at the Absolution Brewing Company tasting room in Torrance. If you have not been to Absolution Brewing in a while, prepare yourself for some changes. You probably already know that they have a new brewer, Bart Bullington, but during our last visit he had just started brewing there so not a lot of changes may have been noticed. I think it is safe to say that Bullington is feeling at home with his new brewhouse and those of us that have tried his brews are the ones to reap the benefits.
The July gathering will be from 6:00-8:00 PM and there will be a food truck there for those that are interested in food. It will probably be Rovey's Turkey; they have various sandwiches and other dishes that use turkey instead of ground beef. As always, this event is open to anyone that enjoys craft beer and networking. It is a very fun group and no matter the number of attendees, those that show up have a lot of fun and business really does get done. Absolution Brewing Company is located at 2878 Columbia Street in Torrance. If you would like to see all the photos from our last Business & Beer at King Harbor Brewing Company, please visit CraftBeerGuy.com. Cheers!
The June 2015 gathering of Business & Beer was held June 11 at the King Harbor Brewing Company tasting room and if the last the